Beer Central Long and Short Stay Car Park
A somewhat complicated car park in the centre of Beer.
You have to pay the tariff according to the colour of the space space you are in.
Free after 6 p.m. in yellow spaces only.

RingGo Code

42961

or

42931

depending on the space you are in! (Probably - check locally)
Longer stay permits are available from the machines
Campers must vacate by 10 p.m.
Postcode is

EX12 3EL
Beer Car Park
This Car Park could be considered the "Main" car park in Beer. Finding it is easy.

Enter Fore Street, the main "High Street" in Beer, and turn right just before The Dolphin Hotel up Clapps Lane. The hotel has a small car park for patrons and just after it turn left in to this large car park.
The car park is a 30 yard level walk to the centre of Beer
The Post Code for the car park is EX12 3EL
---
Parking In Beer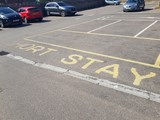 OK, so this car park is quite bizzare. It has 163 long stay places and 38 short stay (max four hours).

The hourly rate is £1 in the long stay section and the maximum payment is £6 and thereafter the rest of your stay for that day is free.
Please note motorcycle parking is FREE but use the dedicated space.
---
Beer Car Parking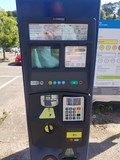 Furthermore if you park in the (Yellow) short stay spaces then you can only stay for a maximum of 3 hours (£3 at time of writing) whereas if you park in the white long stay spaces then you can stay up to 24 hours (No camper vans and sleeping overnight) although the prices are £1 per hour up to £6 and then once you pay six you can stay 24.
So. In a nutshell park in a Yellow space and you have 3 hours max, park in a white space and you have as long as 24 hours...but have to pay for each hour up to 6 hours thereafter free for the rest of the day.
---
Paying to Park in Beer Central Car Park
Assuming you arrive before say 3 pm and plan to stay for "a few hours" if you can find a parking space (yellow or white) park and then pay the appropriate charge BUT if you are in a yellow space you can ONLY stay a maximum of 3 hours and for that you pay £3.
---
Parking in Beer Central Car park is £1 after 6 pm (correct 2021 - check locally) so if you arrive at 4 pm and want to stay all evening just pay for two hours plus £1 in certain spaces only. See signs locally.

If you are in a white space you must pay at the normal rate even after 6 pm.
---
Will I get a space?
This car park can get incredibly busy and even as early as 10 a.m. can be packed on a summer's day. So if you really MUST park here then be early. BUT there is always Cliff Top long stay car park (or Beer Head Car Park as it can be known).

TIP:

If you need to use the Cliff Top Car Park then drop any persons less able to walk off in the village. The journey up/down to it is really quite steep.
---
Pictures of Beer Central Car Park