Clifftop Car Park
A large car park up the hill from the far end of Beer.
The car park is mainly grass.
Pay for four hours and the rest of the day is free, if staying for less than 4 hours the central car park is cheaper.
ParkMobile code

2932

.
Longer stay tickets are available.
Motorhomes must leave the site by 10 p.m.
Car Park has a post code of

EX12 3AQ
This Car Park could be considered the "Overflow" car park in Beer. Finding it is once again quite easy.

Enter Fore Street, the main "High Street" in Beer, and drive all the way down towards the sea and pass The Anchor pub, where the pub should be on your RIGHT (so do NOT take the turn just before the pub) and thus exit the village.

Keep straight on, where the road here becomes one way, and at the Give Way go straight on where the road now becomes two way again.

The entrance to the car park will be on your left after about 250 yards.
The post code of the car park is EX12 3AQ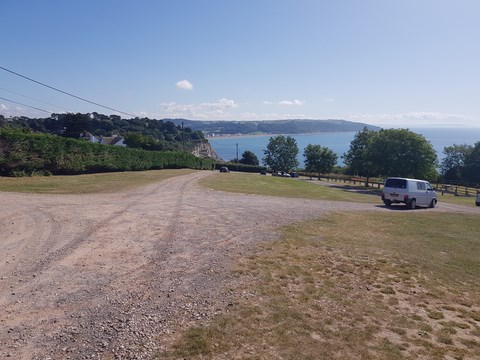 This has to be one of the most remarkable car parks in England, worth the journey up the hill for the view alone some might say.
The town you can see on the coas
t is Seaton, and the land sticking far out to sea in the distance is Portland Bill.
Although is is said to have 300 spaces there are no lines, so parking (on the grass) is a "free for all".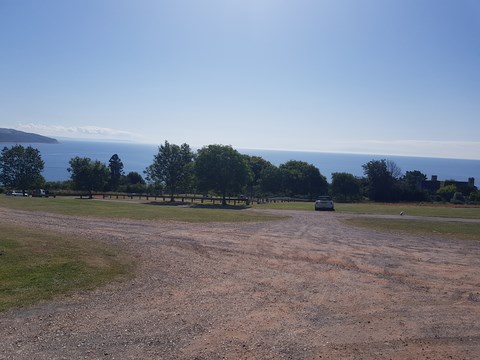 Parking is charged at £1 per hour (Correct 2020) and if you pay £4 you can stay for 24 hours, so it is a cheaper option for a stay of over 4 hours than the main car park in the centre of the village.
But depending on the yellow or white space you could get in the village centre it is either dearer or cheaper than staying for 4 hours in the main car park...but I suspect you are only here as the main car park is full, so worry not!
---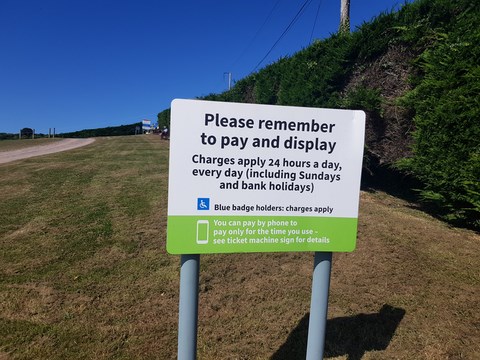 Parking here is charged 24 hours a day, so if you arrive after say 6pm whereas it is free in the car parks in the centre of Beer you have to pay to park here from say 6 pm to midnight.
This is frankly is a bit mad and I doubt anyone ever checks, but you have been warned!
(I suspect this is to stop people sleeping overnight in there, but that is banned anyway.)


---
Will I get a space?
Probably. It is MASSIVE!!

TIP:

If you are in a camper van and want to park it level to make a cup of tea the slope on this car park will be...entertaining. The walk in to the village is very steep. Leave those less able to walk in the village before you head up here to park.
---